wow...lately i have been even more head over heels into fashion than ever before. this may be because i have been watching an over obsessive amount of The Hills(CALIFORNIA DREAMINNN!). i love fashion but it is a very hard topic to blog about, mainly because i believe there is a certain set of rules that every girl must know and without that it is hard to explain a lot of it. can you tell i have been taking philosophy in school lately? hahahaa:) anywayyyssss....today be and my best friend are having a "trendy day". in other words, this is a day where we go all out fashion foward and go shopping. i dont know about you guys but sometimes i can forfeit fashion for reasons like comfortability (is that a word?), maybe going out with people who dont dress extremely fashionable then feeling awkward, or weather. wow this is a long intro... anyways this is just a quick glimpse of some new trends that i have been rocking the streets with lately (comment and questions or thoughts...what your favorite trend?!)
-winged eyeliner- i know this isnt really fashion but i have been seeing this soooooo much! i dont know if i would consider it really "winged" but what i recomend you do is follow the curve of your eye and shape it like the endof a leaf. the smallest flip can make a huge change-- dont be afraid to clean off your eye and try again it can be tricky to get it perfectly on both sides!
-bows- wether its an oversized bow, a bow tied in your ponytail, a floppy bow on a head band, etc. it will spice up you plain outfit!
- letter jackets- my extremely hipster friend has one in kind of a windbreaker for and i am so jealous of it! pair with some leggings or jeans and your good to go:)
-Chambray buttondowns- chambray is a lightweight cotton fabric that is not to heavy but not to light! heres a picture of one i have been admiring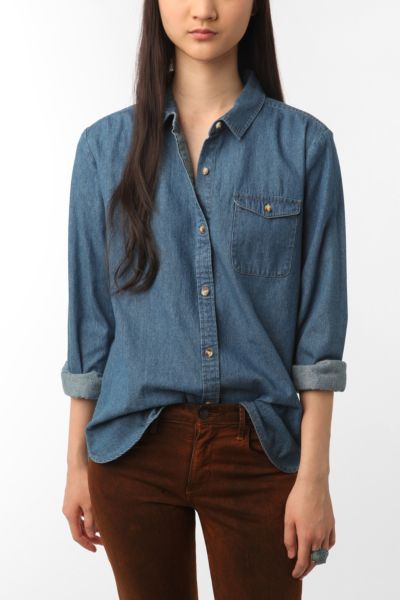 Urban Outfitters
i hope you enjoyed some of my ideas:D What are your favorite new trends??
<3Sarah Anne